Hey there Friday, Good to see you. I am working from home later today and Monday due to some construction in my office. I love these Fridays when I can settle in and get some work done in a cozy environment. We are supposed to have a cold snap over the next few days which will be interesting because it was 60 degrees last weekend! Before I settle into work for my day job, it
's time for Friday Favorites with
Erika, Andrea, Narci. Here are the things that are bringing me Joy this week.
1) The Best Hair Tool
You have probably seen other bloggers post about this Revlon styler and volumizer or maybe even have a friend who has one. I grabbed one last weekend because they are majorly on sale for right about $35...wait...what??? I can totally tell you that it lives up to the hype.
Typically I use this dryer with a round brush and my hair looks pretty Good, but I have been wanting to up my hair game. I was not born with Good hair, my hair is fine, has lots of cowlicks and needs a ton of product. The Revlon dryer totally helps straighten and dry in a snap. I couldn't believe how fast and well this product works.
I have a big cowlick in the back crown of my hair and while I might be able to work around it in the morning it usually splits during the day. Look at how smooth the back of my hair is using the Revlon tool.
I can never get my hair this smooth with just a brush and dryer. My hair also looks shiny and healthy, way Better than when I use a flat iron and I own a really Good flat iron.
It basically takes the same amount of time to do my hair with the Revlon tool as it does with a brush and dryer but the results are so much Better. I think it you typically dry then flat iron, it will totally save you time because you can accomplish both in one step.
Certain colors are only $35.99, so if you have been thinking about trying it out, the price is totally right.
2) The Royals
I am so obsessed with what is going on over in London between the Queen (and Charles and William), Harry and Meghan. In our house, we are Team Queen. The Queen has a lot on her plate right now, I am looking at you Prince Andrew, and now this....
One of the many things I admire about the 93 year old monarch, is her ability to adapt and change in her addition to her commitment to service. I have a hunch as to what may happen long term with this situation, and I admire the Queen'
s ability to listen, get everyone in line and come up with options.
I believe Queen Elizabeth may be the original Girl Boss.
3) Good Itchy Skin Lotion
***contains affiliate links
Because of my health challenges, I don't naturally make a lot of moisture in my body. Therefore, especially in the winter, I get really itchy skin. Earlier in the week when I ran to the grocery store before hockey the other night, I grabbed the Eucerin calming cream. This cream has really helped calm down my skin without being greasy. I really think it is going to help me get through the winter itch free.
4) Real Housewives of New Jersey
When it first started, Running Daddy and I were big fans of the Real Housewives of New Jersey. I mean the table flip is still one of the Best things I have ever seen on TV.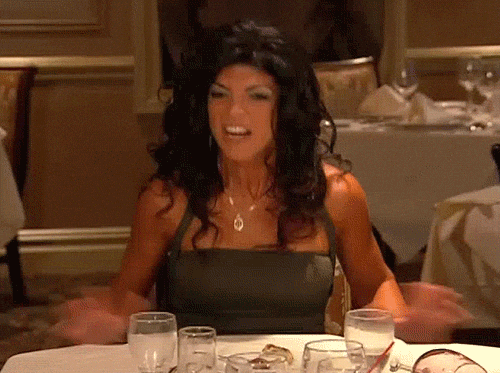 As time went on, it got a little tired and we even took a break from it for a while. I have to say, it's back and it is so Good this season.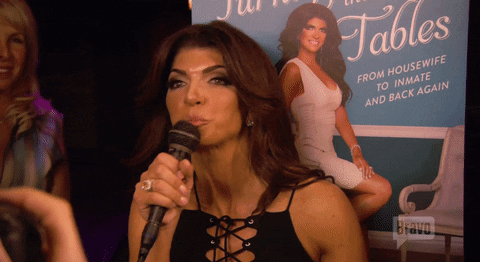 We are pretty much all caught up and we are back to being all in for New Jersey.
5) Hot Toddy
Can you believe I had never had a hot toddy until last Friday night? We were at a super fun high school hockey game last Friday night and between the cheering and the change in weather I had a sore throat on the way home. I decided I needed a little hot cocktail and remembered that I had the Tastefully Simple Honey Lemon Drink mix and decided to make a hot toddy. I used the Daufuskie rum we have from South Carolina and it was so Good. I can't wait to have another one. I think this is my new winter drink and it's perfect for a snow storm.
We have a whole lot of hockey this weekend and I can't wait. Hope you have a Good weekend Besties!