Hey Besties. Here we are at the end of summer and most things look like they did in say...May? We are still plugging along over here and trying to embrace the end of summer, even if this summer looks like no other summer that we have ever experienced. We are doing our Best to get everything done and enjoy these days.

It's the last Wednesday of the month and I am linking up with
Shay
and
Sheaffer
for What's Up Wednesday. Settle in to find out what we have been up to this month.
What We're Eating This Week
We have high school orientation this week and the start of hockey with a brand new hockey club. We have the need to have ease and nutrition this week when it comes to meal planning.
Tuesday-Physical conditioning with a long hockey practice means burgers and dogs. This will be an early dinner with plenty of time for things to settle in the stomach.
Thursday-Brown sugar garlic chicken
Friday-Hopefully take out again from the Lost Dog Cafe.
What I am Reminiscing About
That this sweet boy with a buzz cut is heading to high school today. Here he is on his first day of kindergarten. How can he be almost as tall as me and heading to a new school for the first time in nine years.
He is going to the exact high school he has wanted to go to since he was about this age. He set his goal and he got there. There are so many people how helped along the way, Mrs. McK who will also be with him in high school, Mrs. D, Mrs. B who we owe so so much to and all the Mrs. C's in middle school.
Hockey Guy had the Best preparation for high school not only academically but also spiritually. Those are the things I am thinking about this week.
What I'm Loving
I am so loving the
Ever Reveal Peel Pads
. I have crazy sensitive skin and so many products break me out, even at my age. I have been working really hard to clean up my beauty game over the last few years. The
Ever
line through
Stella & Dot
is frankly the
Best
skincare I have every used.
***contains affiliate link
These peel pads deliver real results with clean ingredients. My "11 lines", that I am pretty sure I was born with, are basically gone now. I only use the pads once a week and cut them in quarters. No breakouts, no irritation. The peel pads are not only good for anti -aging but can help with acne as well. If you want to learn more about the Ever line reach out to me or visit my website.
I am also loving a little froze'. I have been wanting to try it but didn't want to make a whole batch. Our local wine store has it ready to go and you just need to add ice. Oh froze', I get the hype.
What We've Been Up To
We have been up to a lot of work, school prep and finally some hockey. Hockey Guy changed hockey clubs and it was so Good for him to be back on the ice.
In between we had a really lovely and safe vacation in South Carolina. There is nothing like the low country as far as I am concerned. The food, the sunset, and the clouds that seem to touch the sea.
We also are redoing our patio out back. We are doing stamped concrete and they are currently in the middle of the project so the backyard is a little torn up right now. We will be putting the furniture back this weekend and then also figuring out some landscaping.
What I'm Dreading
The only thing I am dreading is the potential to shut things down again. I am worried the Governor will shut down school even though we are in a Catholic high school and they have an amazing plan in place.
I am also dreading a possible shutting down of hockey. Our new team is also very careful about what they are doing, so I am hoping everyone can keep things safe.
What I am Working On
There is a whole lot of work on my plate as we head into full election season coming after Labor Day. There is making sure campaign checks go out and also that there is plenty of money in the budget. I also need to try to raise a little money and some year end meetings on the books.
I am also working to make sure that everything is on our family calendar and that we all know what is happening each day. With a different schedule every day, we need to make sure that things are organized. I am so ready for some sort of schedule, it will make things feel fairly normal.
What I am Excited About
The first day of school today! It is orientation for freshmen and I am just so excited for Hockey Guy.
I also so excited to watch him play hockey. For most of the first games they will only allow one parent into the game but they are hoping to have a live stream to watch at home. While I love to watch him play live, I think it would be fun to be able to watch the games from home on tv too!
What I'm Watching/Reading
We have a Little Free Library in our neighborhood and I grabbed The Undomestic Goddess there this summer. I have been reading it and while it is fun, I remembered what it is about Sophie Kinsella's books..they stress me out. This has the same Shopaholic vibe to it where I kind of cannot deal with people who seem irresponsible. I need a little escape, so I am not sure if I am going to finish this book or not. If you have read this book, let me know in the comments if I should keep going.
In addition to watching both political conventions, we are basically watching all the same things: Real Housewives of Beverly Hills, Million Dollar Listing, and Real Housewives of New York.
Note to Andy Cohen, if you are going to fire Dorinda...Teddi needs to be close behind. The most interesting thing about Teddi is her dad and she has yet to produce him on the show.
For the record. I am Team Denise. I think what they are doing to her is horrible. Is is flat our bullying in the name of "being honest."
Do I think there is some truth to this...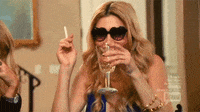 But I think these ladies are flat out mean. And that includes you Kyle Richards...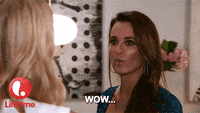 What I am Listening to
I have found that at home I need to listen to music while working to drown out the house noise. I am joying Faith Hill, Lady A (their new name) and also Mercy Me radio on Pandora.
What I'm Wearing
I am wearing a lot of shorts, cargo pants and cute tops. It works well for the work from home days.
I love this
embroidered tee
from J Crew Factory. I also have it in white and it is on super sale right now. It also looks really
Good
with a cardigan for when the weather starts to change.
***contains affiliate links
The Georgica cork sandal is pretty much the only shoe I am wearing these days. Why wouldn't I? The are potentially the most comfortable shoes I have ever owned.
***contains affiliate link
I like to call these the preppy ugly sandals. I totally get the ugly sandal trend, but they are so not me. These shoes from Jack Rogers are just perfect for me.
What I'm Doing This Weekend
I am looking forward to a little socially distant fun at our pool on Friday night. It really has been a Good way to relax and connect with friends.
I am getting my hair done and am glad to be back on a regular schedule for the hair, because we all learned how important getting together with our hairdressers are!
Hockey Guy has his first few scrimmages this weekend. Whether I am watching it live or at home, it will be so Good to see him play hockey for the first time in over six months.
We will also be putting our patio furniture back and coming up with a fall planting plan now that the patio is finished. It is going to be such a Good space to enjoy outside time this fall.
What I am Looking Forward to Next Month
Mostly, I am looking forward to cooler temperatures.
What Else is New
Holly and I would love to have you join us tomorrow for our link up Monthly Musings. We will be talking the end of summer and back to school.
I hope you will join us to link up, as a reader or both. Holly and I love reading all of the blogs that link up with us for Monthly Musings.
Here are the topics for August:
If you have kids starting school soon, whatever that may look like, I wish you the Best for this unique school year start.
I will see you back here tomorrow for Monthly Musings and on Friday for Friday Favorites.