Hey Besties. Everyone doing Good? I know these are stressful time with COVID-19, working from home, social distancing and potential home schooling for the balance of the year. I am definitely needing to spend time on this site, to keep my mind occupied, connect with you and also find a little Joy. How about you?
It's the last Wednesday of the month and I am linking up
with
Shay and Sheaffer
for What's Up Wednesday. This is going to be an interesting one and a little long, so settle in for a little distraction.
What We're Eating This Week
With us all being home, we are focusing on eating healthy. For lunch we are keeping it to sandwiches or a grilled cheese with fruit.
Monday-Sausage and polenta which always seems to be in the rotation when I do What's Up Wednesday. It is so easy and so Good. We all love it.
Tuesday-It's the Great American Take Out
We are trying to support local businesses and restaurants as much as we can during this time. We are supporting a local sports pub this night that is connected to one of our school families. Takeout only right now, but they have a full menu and lots of gluten free options.
Wednesday-Smoked paprika chicken legs by request of Hockey Guy, salad and roasted potatoes.
Thursday-Gluten free ravioli for me and tortellini with Costco pesto sauce for the boys with a salad.
Friday-Another take out option from a local, family restaurant where the boys can get pizza and I can get a seafood dish.
What I am Reminiscing About
Honestly, life before all of this. Just two weeks ago we were at a very fun party at our local Sky Zone for all of the accepted students at Hockey Guys new high school with a beautiful Mass the day before. It was really fun and the calm before the storm.It was only two weeks ago, but it feels like a year ago.
I am also thinking about the beginning of the school year. I wrote about Gratitude in the Lasts about our last year at school. I was trying to not have any expectations about all of the wonderful, final things about our last year at school. I certainly didn't expect it to look like this.
As I drove up to school last Monday to pick up the contents of Hockey Guy's locker handed to me by people we care so much about wearing gloves, I had this eerie thought that this might be the last time I drive that carpool circle. I am trying to take things one day at a time and I know that a lot of people are having a lot of changes right now, but I never thought I would have the feelings that I had that day in what will now be the last time I come around the church, to the front of school for carpool.
What I am Loving
I am totally loving virtual happy hours and wine tastings. I am also loving putting together a Stella & Dot, Keep Collective and Ever clean beauty virtual party for my friend.
Stella has created an amazing collection of fashion, accessories and beauty for spring that will benefit No Kid Hungry. If you purchase any of the items below, Stella & Dot will give 20% of the purchase price to No Kid Hungry.
I am loving the leggings looks my friend put together! You can Shop for a Cause here.
What We've Been Up To:
There is so much more than Covid-19 going on around here.
The big news around here is that Hockey Guy got into the high school he really wanted to attend and another one that was a back up school. He worked really hard for two years and we are so looking forward to the next step in our family journey.
Hockey Guy and Running Daddy are working on a private YouTube channel to provide workouts for our track team kids. They had a lot of fun and it is a Good project for Hockey Guy during this time of social distancing.
Oh...and I have been running. Though I am married to someone who has completed 38 marathons and has qualified for the Boston marathon three time...I don't run. I probably ran some a long time ago, but I am pretty sure Bill Clinton was president (first term). This fall I started to have some FOMO when I was watching a five miler that the boys were running. Earlier this year I started running short distances and this weekend ran 1.5 miles which is probably the most I have ever run. While this is not very far for a person who has my health problems, this is a pretty big accomplishment.
What I am Dreading
In this time we are living in...I am not going to let myself dread anything, including those pesky weeds in our yard. I am actually looking forward to getting out there and making things look Better. Perspective...it does help.
What I am Working on
We are all working on all of us working at home. The Governor closed all schools for the remainder of the school year earlier this week. Even private schools. Learning continues via distance learning. At one point this week, all three of us were on conference calls.
I am also just working on taking things one day at a time and keeping up my 1% challenge which is more important than ever.
What I am Excited About
Honestly, the Zoom virtual Happy Hours, wine tastings and my Stella & Dot virtual happy hour and coffees coming up later this week. It will be Good to see people even though I will be seeing them through a computer screen.
What I am Watching/Reading
Honestly, I am so busy with working at home, helping with virtual learning, writing on this space, and trying to keep busy while not leaving the house that I am not really reading anything. I am exhausted at the end of the day.
All three of us had been really into The Windsors on CNN but that has been shelved for Corona coverage. Same thing with Race for the White House. These series on CNN are so well done and a great way to get in a Good quick history lesson. Hockey Guy has been a fan since he was little.
Last weekend, the Hallmark Channel totally answered the call and showed a marathon of 27 Christmas movies. I probably watched 20 of them last weekend. Probably not an exaggeration and I am pretty sure that I had seen all of them before. Sorry...not sorry.
We also wrapped up The Bachelor. Wow, what a season.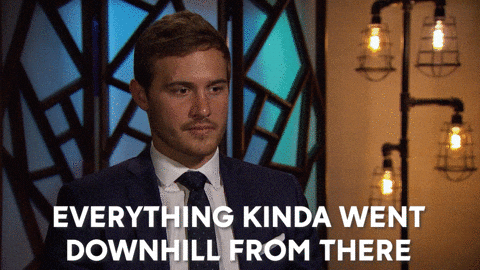 Last week I posted my thoughts on the season, with some help from Hockey Guy. We both had a lot to say. You can read those snarky thoughts here. Including thoughts on his mom.
I am trying to only check in on the news to get actual updates several times per day and not watch the coverage 24/7. I actually feel Better when I am consuming other things besides wall to wall virus coverage.
What I am Listening to
Since I am not commuting, I am not really listening to a lot these days. I typically can get in a few podcasts during the week but since my commute now consists of going from the bedroom to the kitchen to the family room and then the living room...not a lot of opportunity for podcasts.
What I'm Wearing
My rule for work at home, virus or no virus is that I get up, shower and put on a real outfit. It may be cute leggings or jean and a cardigan or cargo pants with a pullover, but I put on a real outfit.
Here are some Good options during these work from home days:
I took a medium
Sale alert!
I took a small
I typically wear a 6/8 and took a 6
I take a small
Sale alert!
***contains affiliate links
If you need any addition work from home style ideas, you can reach out to my friend Susanne and she can help you with some style boards. You can reach her here.
What I am Doing This Weekend
We will probably still be staying home to help not spread the virus. I will be hosting my virtual shopping coffee for my friend's Stella & Dot business on Saturday morning. I will also hopefully be able to get outside and do some yard work and think about making the yard and landscaping look Better.
We will probably look into some fun movies too. I am not too proud to say that we watched Dumb and Dumber last weekend. I love to watch movies like this with Hockey Guy that he has never seen before.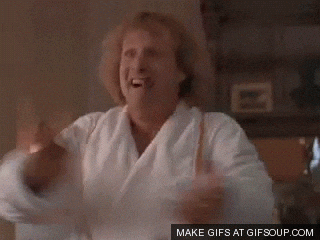 What I am Looking Forward to Next Month
We will continue to stay at home if that is what is recommended, but I am going to write this answer as if all of these things could still potentially happen. We have a lot that we were looking forward to in April. I am not confident that they will still happen on time, but I am hopeful they will still happen.
I have a very big birthday the first weekend in April. I think we will be at home that day and my celebration may be delayed, but I am looking forward to this milestone.
Running Daddy has been working towards a big spiritual commitment on Holy Saturday. He has been working on this since September and it has been so amazing to watch his journey. Hockey Guy and I are so proud of him and through this commitment, he seems happier and more relaxed. This beautiful commitment will happen eventually, it just may not happen Easter weekend if the churches are still closed.
Speaking of Easter, I am looking forward to Easter. All of it. Even if it is just the three of us with the Easter Labrador and my amazing ham.
I am also looking forward to April being the month when hopefully people stop getting sick from this virus. That people start getting healthy and we can all start coming together again. Our school year is over (thanks to the Governor) but I know we will all be together soon.
What Else is New
If you are still here...after all I just write...I seriously think I covered it all.
I hope you are all well and settling into this new normal. Holly and I will be linking up for Monthly Musings back here tomorrow and will be talking Spring Holidays & Decorating. I hope you will join us as a blogger, reader or both. If you are blogging and linking up with us, please link back to both Holly and me.
Stay well Besties!