Last week was kind of crazy with Hockey Guy being sick and just the general vibe of getting things done. After a Friday off, it is time to get back to Fiday Favorites and link up with
Erika, Andrea, Narci
for the things that are bringing me Joy this week.
1) Coffee Warmer
This coffee warmer is a simple Joy. I cannot believe I didn't have one of these until now. Another hockey mom was talking about the desktop coffee warmer and I hadn't really thought about one of these in a while. It keeps your coffee or tea at the perfect temperature all day. The Best part, it turns on and off based on the pressure of the mug, so unless you leave your empty cup on the warmer, there is not risk of forgetting to turn this off. This was a Good option for me, as I would totally be that girl who left the coffee warmer on all weekend.
This would also make a really
Good
Valentine's Day gift.
2) Lune + Aster Primer
I have mentioned before that I am a big fan of Lune + Aster from Blue Mercury. Their BB Cream is pretty much the only foundation that doesn't break me out. I have typically used their Real Glow Primer but I may have possibly ordered the wrong primer when I put in big Blue Mercury order this fall.
That being the case, I am really liking the Pore Perfect Primer that I probably ordered accidentally. It gives my skin a little more of a matte look and I am definitely liking it.
3) Mrs. Meyers Orange and Clove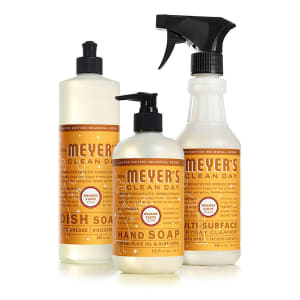 I am loving Mrs. Meyers products lately. They are a Good addition to our home to help us clean up our cleaning game. The orange and clove is perfect for these winter months. The scent is clean and spicy for this time of year, but doesn't leave you with the leftover peppermint or pumpkin spice at Valentine's Day feel. Do you know what I mean? I may have some of that going on in certain rooms in our house!
If you want to try to clean up your cleaning game in your house try Mrs. Meyers through Grove. They have some great specials where you can get a free home bundle with at $20 purchase.
4) Franco Sarto boots
For some reason, I have fought the ankle boots with a skirt look for a long time. Twice over the last few months, two different stylists have told me I should really try the look. I took a trip outside my comfort zone recently and ordered these boots.
***contains affilate links
They are super cute, super comfortable...and I have worn them with skirts, twice. You know what, I totally felt chic in this look.
These are exactly what I wanted at a Good price point.
5) People you are on the same page with
You know what brings me pure Joy? Knowing that there are people in my life that I am totally on the same page with. I am not necessarily talking about people that agree with you 100%. I am talking about people in your life that you can bounce ideas off of that you know will be a Good partner for you.
This happened twice over the last few days. The first was with Holly when we were emailing about our new monthly link up Monthly Musings. I shared my opinion about a few things and she emailed back and said "as usual, we are totally on the same page."
The second was a few days ago. I have been trying to plan something really fun, but was a little overwhelmed at the idea. I had a whole bunch of thoughts swirling in my head but was not moving the ball on this project at all. This made me start to get very inside my head (which I am known to do). All of a sudden I had the idea that I needed to loop in my friend Mrs. K to just bounce some ideas around.
Seriously, in a 25 minute phone call I told her what the idea was and she provided me with a perspective that I don't have as she is the mom of a boy and a girl. We had a Plan A, a Plan B.1 and a Plan B.2 with a divided "to do list" and that we would talk again in a few days with the results of our research. I went from totally overwhelmed by this project which is supposed to be fun to excited and relieved.
We all need these people in our lives and I am so very grateful to have a lot of them. I have a tendency to try to do everything on my own but what I am learning is that I don't have to do it all on my own. It is so much Better to take on the right partners who can be on the same page and also when needed to give you a totally different angle. The Best ones help you share the project evenly. If you don't have these people in your life, you need to work to get them.
That is what I have for this week Besties! Thanks for stopping by.