It's the first What's Up Wednesday of 2020. What's up this month, it feels like a lot. Let's dive in with with
Shay
and
Sheaffer
for this fun link up! Let's talk January
Besties
!
What Were Eating This Week
Wednesday-This will be a busy night as I have a meeting and Hockey Guy has Cotillion. He will probably have something like a grilled cheese with fruit and I have not clue about anything else.
Thursday-It will just be Hockey Guy and me so I will probably make him a meatball sub with salad and then just will just have some meatballs with salad.
Friday-Pizza night.
What I am Reminiscing About
We have been talking a lot about our trip to Memphis last month and listening to a lot of Elvis. I will be doing a few posts on our trip in the near future, but for now here are a few things we are reminiscing about.
Switching gears, I have also been reminscing that ten years tomorrow, I will be gluten free ten years. It has been helpful with my health problems but it is not a cure all. I would not be doing this a decade later if it didn't help. I am thinking about doing one of the online, finger prick food sensitivities this year to truly explore all of this more. If any of you have tried these, could you please leave me a comment or message me? If you would like to know a little more about going gluten free, a few years ago I did a post on Gluten Free 101 and if you want to know more about my health journey click here.
What I am Loving
I know I am like the 1 millionth blogger to be completely in love with the Revlon Styler and Volumizer. The Best news is that it is only $35 on Amazon right now.
Seriously this tool was a total game changer for my hair. It gets salon style dried and straightened in no time flat.
To read more about my review of the Revlon Styler, check out my Friday Favorites from a few weeks ago.
What We've Been Up To
I kind of love January as I feel like the schedule is light and people are around. A few weeks ago we celebrate a birthday of one of the Magnificent Seven and it was fun to go out for a night.
We have also had a lot of hockey. A lot of our games now are night games. It's Good and bad. We can sleep in but sometimes it does cut into everyone's social life. The truth is, we wouldn't have it any other way. Hockey Guy is really heading into a new phase in hockey and it is exciting to watch. Stay tuned for more.
What I am Dreading
I have been pretty Good about cleaning out some clutter and organizing a bit. I have some more clutter to clear out and I am dreading the process. I am not dreading the results, just the getting started part.
What I am Working On
I am working on adding a little Joy to the house once the Christmas decorations came down. We moved some furniture around n the living room and things look more open. I also have been trying to add in some blooms to our house to soften some lines. I was given some really beautiful planters from our office because we are doing some remodeling and they look really Good. Hopefully I can keep these plants alive.
The Best thing I have been working on lately is the new link up that Holly and I are hosting tomorrow. Tomorrow we are launching a new link up called Monthly Musings.
We are keeping with the schedule of the last Thursday of the month but we are changing up the link up. Each month we will post a themed set of questions for bloggers to answer and then link up with Holly and me as the hosts. We will try to post the questions on either the Sunday or Monday before the link up on social media so you have time to work on your posts. The Best part is that the questions are meant to be fun and quick but you can write more and post photos if you want too!
Ok, ready to join us tomorrow as a linked up blogger or reader? Tomorrow we are talking about Love to share all kinds of ways to plan for Valentine's Day. Questions are below"
What I am Excited About
I am excited about the new link up with Holly tomorrow. It should be a lot of fun and we welcome others to join us.
I am also excited about some hockey opportunities that Hockey Guy has had recently. It is really Good to see him play up and set goals for himself.
I am also really excited that we have had only one "snow day" so far. It's a little easier now that Hockey Guy is older but so far the winter has been pretty mild.
What I am Watching/Reading
I know every month I say I am not reading anything unless it is work related or related to helping Hockey Guy with homework...not this month. This is the total page turner I am working through now...
Is there anything Better than a 1980's tell all book? With our trip to Graceland after Christmas I wanted to read this. I couldn't get it out of the library but Amazon totally hooked me up. This is the most interesting story and I am totally conflicted about their relationship, especially as a mom. On one hand, she was so very young, on the other hand he seemed very respectful of her.
Now I am watching my usuals...starting with the Bachelor. This group of ladies is just a special kind of crazy and we are only on week four. Starting with this little gem.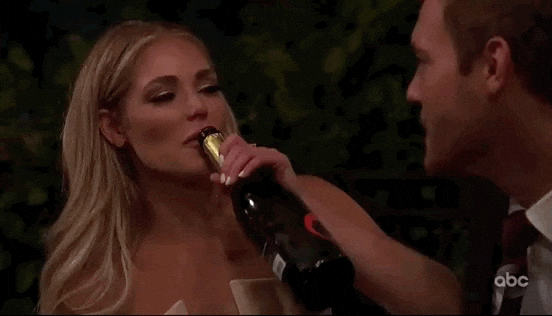 I laughed HARD when Hockey Guy and I were watching this. I think "Champagne Gate" is just the tip of the iceberg with this crew.
Running Daddy and I are also fully back to being into New Jersey Housewives. After a few bad seasons, they have retooled the cast and it is finally settling in to be Good again.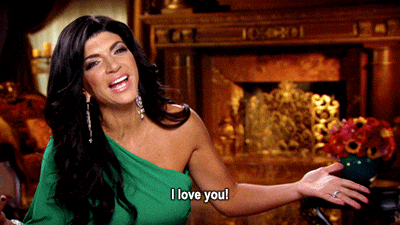 What I am Listening To
I have a few new podcasts that I am into and they could not be more opposite.
Catch and Kill
I am more than slightly fascinated by Ronan Farrow and the entire back story of the breaking the Harvey Weinstein story. He has a book out by the same name and now he has a podcast. Some of the stories are fascinating and some of them are downright heartbreaking. I love journalism when the writer will stop at nothing to get the truth, even when it means being followed and threatened. If you are into this type of podcast I highly recommend you check it out.
Cozy Cabin
On the exact opposite of the spectrum from Catch and Kill is the Cozy Cabin. Cozy Cabin is a podcast dedicated to Hallmark movies and these ladies are just getting started. They are very funny and yet love the movies as much as we all do. Check them out if you have not already.
What I am Wearing
Mostly these days I am shopping in my closet. I have a lot of Good items and I am trying to watch my budget until spring.
The one thing that I did buy that I am wearing on repeat, including while I am currently writing this post, are some cozy fleece toppers from Old Navy.
I also grabbed a similar piece that is a pullover as opposed to a cardigan.
What I am Doing This Weekend
We have another totally normal schedule this weekend. We are going to a hockey game on Friday night. Saturday I am going to get my hair maintained and then Sunday night Hockey Guy has a game. I am hoping to have more time to do projects around the house, a little Valentine's decorating and meal plan.
What I am Looking Forward to Next Month
In February I am looking to all things Valentine's Day and all of the fun that comes with it. I also have a business trip to corporate HQ coming at the end of the month and of course more hockey.
What Else is New
Ok, I know this was a long post, so I am pretty sure I covered everything. Thanks for hanging in there with me.
Hope to see you tomorrow for Monthly Musings--whether you are a blogger, reader or both--we would love to have you join us tomorrow to talk about Love!