Hey there Besties! I will just say it, July is a long month. Not necessarily a bad month but a long month. So much goes on in July. It is the last Wednesday of July, I am linking up with
Shay and Sheaffer
for What's Up Wednesday!
What We're Eating This Week
Even though it is summer, our nights still tend to be a little busy. Hockey Guy does extra math during the summer and usually does about two to three sessions per week. So sometimes I am not starting to make dinner until after 7:30. Here is what I think we are having this week or at least options.
Monday-grilled pork chops, brown jasmine rice and steamed broccoli
Tuesday-Running Daddy has marathon training tonight so Hockey Guy and I will do something easy this night. We will probably have something like Amylu chicken burgers and fruit.
Wednesday and Thursday options include: chicken pesto pasta and burger night
Friday: hopefully take out at the pool
What's I'm Reminiscing About
Mostly thinking about our trip to Hilton Head last year as we get ready to head there again in August. I love Low Country so much and cannot wait to get back there.
I am not trying to rush summer, but with school approaching next month, it's hard to not have all the feels as we get ready to start Hockey Guy's last year at his school. I am thinking about all of the years past and how much will be changing this time next year. This is a class of only 50 kids in their grade and they are all friends. People are super tight and we are already planning parents happy hours and a hash tag for photos this year.
What I am Loving
The weather around here has been fry your face off hot a lot of this summer. I mean heat indexes over 100 degrees. I started using Moroccan Oil Extra Volume Shampoo and Conditioner a few weeks ago and it is a really Good option for me. It help keeps my hair smooth without weighing it down.
****Contains Affiliate Links
I am also loving some of the independence we have given Hockey Guy this summer. He is embracing the independence and making Good choices on his schedule and managing some of the school prep work he needs to do. This will be an exciting fall for him and I think he is trying to get himself ready. Crossing fingers.
I am also loving the gluten free donuts at Sandy Pony Donuts in Annapolis, MD. They are they Best thing I ever ate, gluten free or non-gluten free. I was able to have them twice this month. To learn more about them and why they are the Best click here .
What We Have Been Up To
Hockey Guy went to sleep away Hockey Camp this month again for the second year. It's a high intensity program run by a NHL coach and he always comes back a Better skater. He always tells us that he learns things there that he doesn't learn anywhere else. He also comes home a little more grown up, in a Good way. If you have a young hockey player and want to find out more about it for next year, message me either through my email through this page or DM me on my social media.
We had a great 4th of July at the pool and then headed to our friend's house that night. I have been liking being home for a change for the 4th.
We took a trip to Stone Harbor, NJ to see my sister and so Running Daddy could do the Stone Harbor triathlon. Despite the heat, again melt your face off heat, he had a really Good finish time. It was so hot there it was too hot to even go on the beach.
I also got the chance to see Hootie & the Blowfish with some of my girls. I love these ladies so much.
This month has been some fun and a lot of work as we sprint towards vacation!
What I am Dreading
In order to prep for the school year, we need to clean out some uniforms, other school clothes and supplies. It's a job that Hockey Guy and I really dislike but it needs to get accomplished. Things need to go out before the new stuff comes in!
What I am Working On
Ok, my big work project launched this month which was a new multifunction website. There was a lot of back end work and while it took me about seven months to help build, it probably really took me more like a year to complete this project from concept to launch. The launch went well and the campaign is going really Good with a hiccup along the way. Just a few more days and then I am in the reporting phase.
I am still working really hard to not be so hard on myself and to stop putting so much pressure on myself personally and professionally. I am reminded by those around me who have my Best interests at heart, that the only one really pressuring me...is me.
What I am Excited About
I am excited about getting ready for our trip and to take Running Daddy's new luxe SUV/truck on it's first road trip.
What I am Watching/Reading
I am finishing up reading Girl Stop Apologizing by Rachel Hollis. It's a really Good read. I am looking for some recommendations for books for our trip so leave any ideas in the comments below. Nothing upsetting or dark...something fun or with self growth please.
It was the Countdown to Christmas Christmas in July this month on the Hallmark Channel and I was so there for all of it. It brings me such Joy. You can check out my guide to all things Hallmark Christmas here and here.
Um can we talk about The Bachelorette??? And how this is ending up being the Best season? Let me give you my summary---Luke and Jed are horrible, jury is out on Peter, Tyler...wow is he sweet and Good looking.
Best moment---we were screaming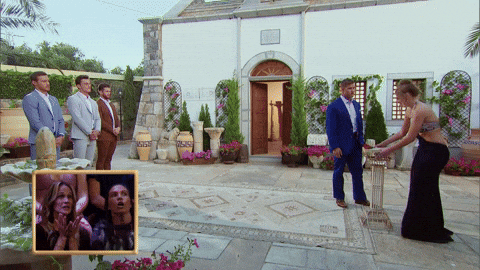 And I am NOT talking about that windmill! Oh my.
What I am Listening to
All my regular podcasts!
What I am Wearing
I am so loving these faux wrap terry sweatshirts from Old Navy. They are the perfect layer for air conditioning and for lounging. I think I will be wearing them all fall for casual outfits.
What We Are Doing This Weekend
We are getting ready for our trip and doing some prep work. Hockey Guy has another kid's triathlon and I am going to try to chill and get some rest.
What I am looking forward to next month
Vacation vacation vacation! It's also Hockey Guy's birthday which we will celebrate on vacation!
I also love the start of school and this is such a big year for him.
I will also be finished with the main part of my big project and I look forward to being able to exhale a little bit.
What else is new
I think I covered it!
Join Holly and me back here tomorrow for Thankful Thursday! Link up with what you are thankful for in July. We are a week late on this because I didn't realize last week was the last Thursday in July.