Happy Day after Valentine's day. I hope your day yesterday was sweet and filled with love whether it was your true love, your kids, your girlfriends or you furry friends. Today I am shaking off a long week and
linking up with
Erika

,

Andrea, Narci
and The Blended Blog for my weekly list of Friday Favorites. Let's do this.
1) Orange Cranberry Mini Muffins
This week I posted these Orange Cranberry Mini Muffins for Tasty Tuesday. These are so Good and I have been making them every week for the last couple of weeks. A perfect hint of orange and the yogurt in the recipe keeps it moist. Did I mention that I made these gluten free with King Arthur gluten free flour? And that two of these are 6 WW points...which is pretty low for a muffin?
2) Essie Gel Polish
I struggle with my nails...which I know is a total first world problem. I am a former nail biter and love the look of a Good mani but never have the time or patience to get one done. Enter the Essie Gel Polish. I had used another brand that I liked, but I really think the Essie one is way Better. No base coat, just a Good buffing of the nails and then two coats of color and one coat of the top coat. I let all of the coats dry about 3 minutes in between. I really like this polish and it is staying on really well.
I think the Best deal is what I did is to buy the starter kit and then add in another color. These are the exact ones I purchased. The color above is Sit Me in The Front Row and I love it.
**contains affiliate links
3) Real Housewives of Beverly Hills
Right.Out.Of.The.Gate this show is bringing it. After kind of a boring season last year, I can tell this one is going to be Good. Here is some Good Housewives trivia for you...new housewife Denise Richards new husband was married to Nicoellete Sheridan...you know who else used to be married to
Nicoellete Sheridan??? One Harry Hamlin who is married to one of my two favorite housewives Lisa Rinna! Yea, it's going to be a Good season!
And what is super exciting...one of my friends called me while I was on vacation last summer as she was at LAX and saw all of them boarding a flight to the Bahamas. She sent me photos that day too. I can't wait!
4) Lisa Rinna Goat Yoga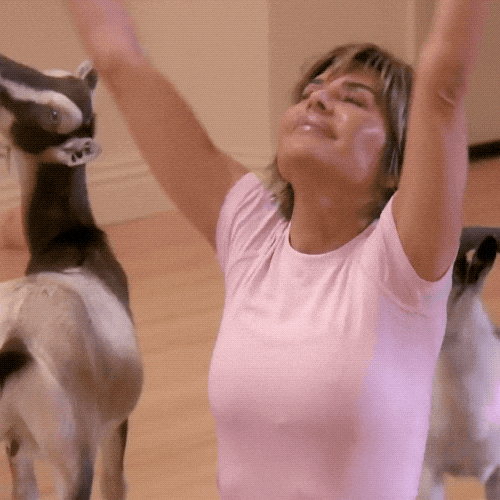 While this was part of the premier, this totally deserves its' own favorite. Watching Lisa Rinna and her daughters do goat yoga made me laugh out loud. I showed it to Hockey Guy as he was studying and was a little stressed and he was totally cracking up.
I will not lie to you...after watching this, I have totally found goat yoga very close to me and if I can find someone to go with me...I totally want to go. If you have done goat yoga, I need to know more...STAT.
Even if you don't watch the Housewives, you need to watch the clip because it is so funny. Rinna's laugh is the Best.
This week's Friday Favorites that is totally light and airy after kind of a stressful week for all of us. We are fine but we are dealing with school, work projects and potential government shutdowns again...so I needed to focus on the fun.
Have the Best weekend.