While parts of this week flew by, it did seem like Thursday aka Friday Eve kinda dragged on. Even though it is supposed to rain again this weekend, I am actually looking forward to it to get things done. It's a little late when I am writing this but I am happy to be linking up with
Erika
,
Narci
and
Andrea for Friday Favorites. Here's what I am finding Joy in this week.
1) Slow Cooker Pulled Chicken
If you stopped by yesterday you learned all about the batch of pulled chicken I made in the slow cooker. This recipe is so Good and makes enough to freeze for several meals. I am trying so hard to make our evenings easier so I think this chicken is going to be on hand at all times. If you missed it, you can read more about how to make this chicken here.
2) Bobbi Brown Slopes Blush
***contains affiliate links
I stopped into Blue Mercury on Monday with my list in hand because they have their big anniversary bag special going on this month. I really needed a new blush because mine was almost out, it lasted about two years. I always wear Bobbi Brown blush because it doesn't break me out and I think she really has the Best colors. I did think the last one I had was a little too pink so the make up artist recommended Slopes. It's the perfect color for fall and looks a little more natural on me than the Desert Rose one I was using before.
3) Real Housewives of Dallas
I barely watched season one of the Real Housewives of Dallas but something started to happen in season two. They added in some new women and it really came into it's own. I am still getting totally caught up on season three but I am almost ready to say, that these women could be in the big leagues now and by big leagues I mean as Good as Beverly Hills but not quite New York level. Because we all know that the New York Housewives are the Best.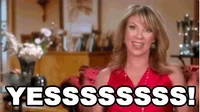 4) Rothy Flats
I have been wanting to get some really Good black flats that were both comfortable and cute. Another blogger had mentioned Rothy's and I thought these might be a Good option. Honestly, they are super cute and very comfortable. I love that you can wash and change out the liners because things get a little stinky when you wear flats without socks.
I would totally go up a size. I ordered the size 8.5 in the regular (not pointed) flats. When they arrived they were too small. This was not a problem because Rothy's has really Good customer service and I had a size 9 in just a matter of days. If you are interested in trying Rothy's you can save $20 on your first pair by using my code. I am going to wear them for a few more days but I am totally thinking about getting some additional pairs.
5) Gluten Free Coffee Cake
When we were in Hilton Head last month, I had gluten free coffee cake from the G Free Spot Bakery which was basically the first coffee cake I have had in about eight years. Since it was a long weekend I did some searching and then used this recipe as a guide to make my own gluten free coffee cake. I am not going to tell you that this is the healthiest thing I have put on this blog, but it was really Good--especially when warm. Gluten eaters could easily make this with regular baking mix.
This recipe is also pretty easy to make so I made it early on Monday morning but didn't allow myself to eat it until after I came back from Barre 3. #lessguilit
That's what I have this week. I am planning on some fun posts next week to so stop by if you can.