Whew, it has been a week. After a fun trip to get Hockey Guy at hockey camp last Friday, we had a very chill weekend. I have been working a crazy amount on a project that is very difficult but it is all working out. I am excited to take a break and link up with
Erika

, Narci and Andrea to
share some of the little things that brought me
Joy
in this busy work season.
1)The Good Better Best Garden
I have talked about my garden on this blog for many years. For a while I just wrote about cooking and then some gardening. Last year I didn't plant the garden because we were smack dab in the middle of a major home renovation and frankly, I couldn't tend to one more thing. This year after some rain delays I was able to get the Good Better Best garden in on Memorial Day weekend, like I do most years. I think taking a year off may have been a Good thing because it is going gangbusters. The tomato plants are huge and things are starting to pop. I do think all of the rain took out our zucchini plant because we have no flowers and only one zucchini came up this year but apparently I am about to have a side hustle as a yellow squash farmer. Feel free to send any yellow squash recipes my way.
The above photo is just what Hockey Guy and I picked quickly the one night. Hockey Guy has been really Good about helping me to water this year when it is not monsoon season. Honestly, if you want to get your kids to eat vegetables, try to grow a garden even if it is in a few large patio pots. Hockey Guy from the time he was little would try things from the garden that I know he would not have tried any other way. He started with cucumbers and is a total fan of eggplant since he was about four years old. Ok, here is the secret with eggplant, if you plant either the white ones or the Japanese variety they are smaller and less bitter. Our white eggplant is so sweet and creamy this year. It has been so fun to make things like p
armesan roasted shrimp and then all of the vegetables were roasted from our garden. So Good.
2) The Bachelorette Men Tell All Thoughts
So here is my thoughts on the The Men Tell All this week.
Honestly, I think this was one of the Better ones in recent memory. Or shall we just call this "Jason's Bachelor Audition"? Jason showed up with less hair gel and some very rehearsed lines. I just can't get on this "Jason for Bachelor" train. He is just too cheesy for me and is trying too darn hard. Or it might be because he looks waaay to much like Vic Damone from Fast Times at Ridgemont High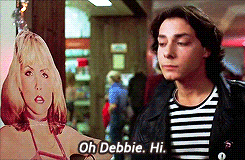 AMIRIGHT?????
Speaking of Bachelor auditions, Joe the Grocer. Listen, this guy is super cute, but you kind of need a personality to be the Bachelor. Unless this guy is a total firecracker on Paradise, there is just no way.
While I love me some Colton, I am not sure that he came across that great on Monday night. He seemed petty and walked into a lot of traps set for him. I cannot even speak about his paisley black jacket. That being said, Hockey Guy and I remain #TeamColton.
And then there is Jordan. I have said it all season, I need Jordan on my tv. Hockey Guy and I were rolling on the floor laughing at this guy.
And as a family, we have decided that we are going to use this phrase on a regular basis, but fully clothed of course.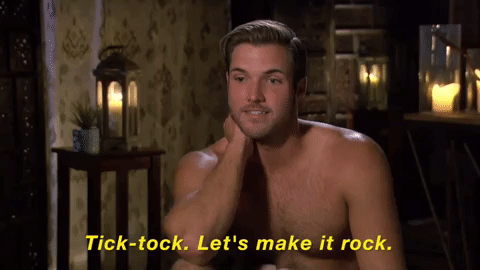 Why was Wills on the hot seat? And why did Chris Harrison not ask him why he wore man rompers?
So we are down to Garrett and Blake...really? Garrett is just the worst and for Blake is just a basket case. Neither one is a Good choice.
Oh and for the record, I think Tia is nuts.
3) Hallmark Christmas Keepsake Week
If you have been around this blog for any amount of time, you know I am a big fan of the Hallmark Channel. I was so excited that the last two weeks had the Christmas movies that they show in July. I was even happier because I have been getting up to work really early in the morning...like in the dark early, and three of my favorites were on when I was working. If you need to grind it out for work, it's always Better with the Hallmark Channel. #Hallmarkie
4) Jeans I Am Obsessed With and What I Kept from the Nordstrom Sale
It took a little bit for my purchases from the Nordstrom sale to get to me. Most were misses. I just cannot do a long cardigan maybe because I am not that tall, the skirt was very narrow at the bottom and I could just about walk. While both pair of jeans were Good, one was way Better.
***contains affiliate links
These might be the Best fitting jeans I have ever worn...period. When I pulled them out of the box I was very skeptical they would fit. These jeans pull you in and lift your butt. They were less than $45 dollars at the Nordstrom Anniversary Sale and honestly, they are worth it at full price if your size is sold out and you have to wait. These are going to be my go to jeans this fall. They seem to be true to size and I took a size 6.
The Articles of Society Jeans that I also ordered were a Good fit but they seemed to have more fabric gaping, so I think they were either too big or too long. Wit and Wisdom for the win.
***contains affiliate links
5) When A Friend Sent Me Joy--Pimpin Joy
When we got home from picking up Hockey Guy at camp on Friday afternoon, there was a gift on the porch, for me. No note. It was this shirt, and honestly I have been wanting one.
I figured out who created this Joy for me pretty quickly. This shirt is so soft and the exact color I would have chosen. To learn more about the mission of Pimpin Joy and order your own shirt click here.
Looking forward to another relaxing weekend and hopefully and end to the rain!