Everyone, and I mean everyone was crying in the latest episode of the Bachelor.
We start this week Krystal free in Tuscany. Sienne is the only one that can locate Tuscany on a map.
Yale for the win. Chris Harrison pops in and informs us no rose ceremony this week only dates. Half the ladies will be going home this week.
Jacqueline isn't sure if she is falling in love with falling in love…girlfriend may be on to something!
Becca K (the non-teenager) gets the first one on one. Arie says it's been so long since their "first first date". Our man Arie is looking to see if there is romance there. I am completely confused by Becca's off the shoulder high low maxi dress, it's a lot of look. Becca says Arie is easy to travel with…the production crew helps. Arie takes her on a date to sit on a wall. Oh no, there is more Arie bad dancing. Mama's I beg you again, don't lose that 7th grade cotillion invite.
At their evening date, Arie packed a cardigan and Becca is wearing a cocktail dress with sparkle shoes. She dated a guy for 7 years that she says was not official…Arie would be the first real guy she brought home. They seem to like each other. Becca gets the rose. Arie is "really really really hopeful" for them.


Jacqueline is crying to Kendall in the hotel room and not feeling confident. Kendall says that Jacqueline needs to talk to Arie.
Knock at the door. Date card. Lauren gets the next one on one date. Bekah throws a teenage fit at the news. Jacqueline is continuing being upset. Becca is back with her rose and poor Jacquelin is continuing to melt down and shows up at Arie's door. Knock, knock…breaking up calling. Jacqueline tells Arie that she may not be confident enough in her feelings for hometowns. She has swirling doubts. I cannot follow this conversation at all. There is kissing, there is crying. Ok, it looks like she is leaving but Arie tells her to come back if she has any regrets. More kissing and more crying. Make that sobbing in the hallway. Jacqueline tells the ladies she said goodbye to Arie. Kendall and Jacqueline are sobbing like they broke up. This might be the most epic cry in Bachelor history, I am talking a full Jason Mesick here.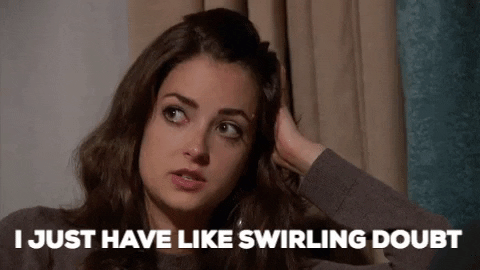 Next morning, Arie talks about the "break up with Jacqueline". Did they break up? But, he is ready for his date with Lauren. Arie shows Lauren his 8-year-old bike tricks. They get gelato and walk around and don't talk. These two are like watching paint dry. They get pizza and still don't talk. Lauren tells Arie he is the first guy since her fiancé to introduce to her parents. The play soccer with a group of kids and still really don't talk.
Evening part of the date and Arie has strong feelings for Lauren. Lauren talks about tearing down the walls and they swallow their wine very loudly. Lauren tells Arie that she is terrified but Arie isn't like anyone she has dated before. Lauren says she is starting to fall in love and Arie seems very weird and gets up. He paces and paces. Arie returns to the table. Arie is nervous and says nothing is off and gives her the rose, that he has felt things that he has not felt in a long time. Not sure why he needed to leave the table and then say this. Arie asks her if she wants to walk around…again. He tells the camera he is falling in love with her.
Back at the hotel, the ladies chat more about their connections. Date card arrives. Sienne gets the one on one date. Tia and Kendall have the sad eyes at this news.
Arie says that he has been crazy about Sienne for a long time and that he is impressed by her. They are going truffle hunting because the other ladies probably wouldn't know what a truffle is (I added that part in). They meet Guillo the truffle hunter with the truffle hunting dogs. They find one. Guillio invites them to lunch with his family. They guys grill Sienne with the grandma while Arie makes heart shaped pizza with the ladies. They all have lunch and kiss, well just Sienne and Arie kiss.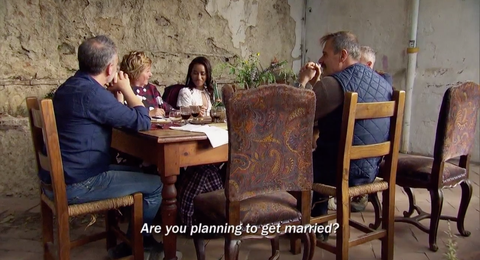 On the night time portion of the date they head to dinner. I hate to say it, but this woman is way too good for Arie. Sienne says that love is not expressed freely in her house but today she saw it as a strength not a weakness. Things get a little awkward. There is scary music and Sienne says she is not ready to not have Arie in her life. Arie says that something is off. Arie breaks up with her while holding the rose and says he thinks that they should be further along than they are. Sienne is surprised and wishes him the best. This girl is pure class.
Bekah says she would want Sienne to go home for numbers purposes. There is a knock at the door. Bekah, Kendal and Tia are on the group date.
They take Sienne's luggage out and Bekah says her odd just went up…is she no longer able to hide her crazy?
Arie greets the three ladies while wearing a crewneck….yes a crewneck. Bekad K is dressed like Lucy in the scene where she makes the wine with Ethel. Kendall and Arie have alone time and talk about hometown dates. Kendall is really into Arie. Bekah says to Tia that at times she wants to be at home with her family…and the missing person report. (I added that in). Tia tells Arie that she doesn't want to be petty, but she thinks Bekah is on different page than the others. Girl, this is bad move. Arie says not to harp on this and looks uncomfortable.
Tia talks to Bekah and tells her that she did mention to Arie that Bekah could break his heart. At least she is honest. Bekah starts to cry because she feels hurt and misunderstood and goes crying to Arie. This is an adolescent meltdown complete with running black eye makeup. Girl is crying so hard they need subtitles. At this point Arie is thinking "eject". Bekah is a stage 5 clinger, so Arie does what he does best…he kisses Bekah. The conversation is slightly creepy and it's like a dad with his daughter crying over the mean girls at the lunch table. They talk about Bekah's family and how they are opposed to the show…hence the missing person report. They pick at Bekah's five grey hairs and kiss.'
Kendall gets the first rose on the group date and she now must head back to the hotel. We now have a two on one date between Tia and Bekah. Night is upon us and Arie dons a real sports jacket for the date. His cardigans must be at the cleaners. Tia and Arie get alone time and Tia goes on and on about how much she likes Arie. Bekah is up next, and she reminds him again that she is 22 and that she is emotionally volatile, just what every guy wants to hear. She is acting needy and desperate and he is looking way uncomftable. Arie is ready to give the rose and it's the hardest rose he has had to give out. Tia gets the rose. Bekah cries hard in the limo. Like vein bulging, hard full ugly cry. Arie has his own ugly cry minus the mascara.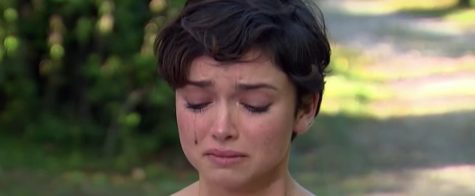 Next week Arie and Kendall play with her dead animals and every dad threatens to kill Arie on the hometown dates.