Today I am linking up with
Shay
&
Erika
for their Workin' It series. December's topic is "Keeping Sane During the Holidays." Anyone else really need this right now?
We all start the holiday season so ready, so excited, feeling like this year we are going to have it all under control.
Right about now, smack in mid-December, things are a little more stressful, a little more upside down.
Last year, I wrote about how not to do the holiday season run up during my Christmas Download 2016 post. Last Christmas I ended up with asthmatic bronchitis and I am pretty sure that was not on my Santa list. It was not Good. So here are a few ways I am trying to stay sane, and yes...this list serves as a reminder to me too.
1) Shopping
I actually start shopping in the fall with just a few fun things I will see. I am one of those people who really likes to buy Christmas gifts for people and it brings me a lot of Joy. I take a lot of time and thought into each gift and have a lot of people to buy for, so if I don't start early, I will be just grabbing anything and that's just not my style.
I also like to do smaller shopping trips of an hour or two and not try to do a marathon shop. Those long shopping trips wear my out and strip me of the Joy.
2) Keeping Track
I am one of those people, that often forgets that I have bought things and if I am not careful can over buy. For years, I used to keep everything in a spreadsheet so that I wouldn't over buy or duplicate gifts from years past. A couple of years ago I discovered an app for tracking your Christmas shopping list. The Best part, it's locked with a password so that little spies who use your phone cannot get into it. It tracks your shopping list, how much you have a spent, whether you purchased it already and if it is wrapped yet. Plus, it is all in the palm of your hand when you need it. What could be Better than that?
3) It's All About the Deadlines
About this point in December, I pause for a moment and look at what I have already bought and then decide what I still need to buy with a priority on items that need to be shipped. I have one quick thing to get that needs to be shipped but that is an easy errand. Almost everything in this category is already wrapped. Hopefully everything will be in the mail over the next day or so.
Next priority are any gifts that need to go into school. I have until the end of this week to finish purchasing and can wrap the school gifts this weekend. Hockey Guy will gladly bring these in early next week.
That leaves me all of next week to finish any purchases and wrap things up for the big day...literally!
4) That's a Wrap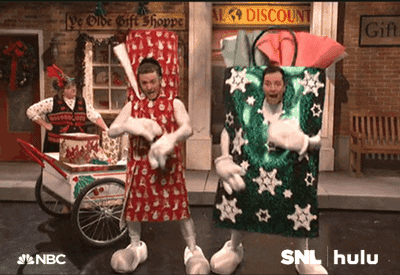 I hate to wrap gifts...seriously. It's just not my thing and I find it boring. Some years I have hired an elf to help me wrap gifts and if you are behind on things, I would highly recommend this. Several years ago I was really busy and hired our babysitter to wrap all of our family gifts, 'cause Santa has his own elves for this stuff. She was able to do this when she got out for Christmas break. I organized everything so that everyone had a bag and then the information for the gift tag went with that bag. I gave her a week to do this and she had it wrapped up in about four days. I know I made money when I was in high school wrapping gifts and it is Good honest work. Seriously think about this option if you are feeling overwhelmed. Everyone wins with this option.


5) It's OK to Say No to Extra HoHoHo
While it is always nice when someone extends a kind invite to a holiday party, it is ok to politely decline if it is going to bring you more stress than Joy. The same goes for entertaining in the weeks leading up to holidays. Why not decline an invite and invite that friend to coffee the week in between Christmas and New Year's? What about instead of hosting a Holiday Party, you wait until the second week of January when everyone is back in town and host a casual dinner or potluck? Some of the Best times I have had with friends have been in those quieter days right after Christmas and we have had neighborhood progressive dinners that have been so fun in mid-January.
6) Take a Day Off
If you work full time outside of your house, try to use a vacation day or two as an opportunity to get things done. I also recommend taking off Tuesday, Wednesday or Thursday as opposed to a Monday or Friday. Fewer people take days off mid-week and the stores, post office, etc. should be less crowded.
While you are off doing your holiday errands, don't forget to give yourself a little Joy. Stop for the peppermint mocha, have one of those amazing gingerbread cookies, keep the bonus gift for yourself or go get an express manicure. In this season of giving, make sure you are taking the time to be Good to yourself. You work hard all year and you deserve some Joy.
So these are my tips to stay sane this holiday season and I will be doing my Best to take my own advice. Feel free to share any tips you have in the comments below.