Today I am
linking up with the
Blended Blog
for The Blended Blog Asks -- a
Good
way to start a Monday. Let's jump into these Holiday Theme questions.
1) Real or Fake Tree?
Real all the way. We always buy from a church around the corner from our house and they have the Best customer service.
2) Favorite Christmas Cookie?
This is hard for me because I am gluten free, but Santa is very fond of the printed sugar cookies from Pillsbury!
3) Home on Christmas Morning or Travel?
We are always home.
4) Clear or Colored Lights?
Clear but I did buy a Star Shower last year and I do think it is very fun for outside.
5) Christmas Cards?
I do like to do a card and I often feel a lot of pressure about it. Last year I didn't do one because I was so sick. This year I have a really Good photo of the three of us and just need to snap one of our dog. I also need to clean up our mailing list...hmmmm is this going to happen?
6) Favorite Christmas Present Received?
Honestly, it is hard to choose. Running Daddy does an amazing job choosing things for me. We really love to get each other gifts. It's not about the material part of Christmas, it's really about taking the time to choose something that you think the person you love will enjoy.
7) Favorite Christmas Present Given?
When we told our parents on Christmas Eve that I was pregnant with Hockey Guy. It was a very funny story and then also very sweet too.
8) Stockings or No Stockings?
Stockings all the way! Stockings are the Best part of the morning!
9) Christmas PJs?
Sort of...for a while I got all of the little cousins matching pajamas. While it was a total hit for a while...I think they are starting to outgrow this tradition. As for me...I will probably wear these llama pajama pants with the matching top
10) Favorite Christmas Carol?
There is nothing Better than Silent Night.
11) Favorite Christmas Tradition?
The first weekend in December where we live is always the Scottish Walk Weekend. It is a weekend long event that starts with the Taste of Scotland and then the highlight is the Scottish Walk Christmas parade. We went to the parade on Saturday and it did not
disappoint
. There are clans from as far away as Wisconsin and it is unlike any other parade I have ever seen. Here is a little taste:
12) Early Shopper or Late?
I am an early shopper. I have a lot of people to buy for and I also take a lot of time to choose gifts so I have to start early. By early I mean I start buying things when I see them in the early fall.
13) Favorite Christmas Movie or Show?
Well, if you have been around this blog for even a hot minute, you know that I am obsessed with the Hallmark Channel and have been watching their Christmas movies forever. Honestly, my favorite Christmas movie is Christmas Vacation. I don't think a day goes by that either Running Daddy and I don't quote that movie...even in July. We have even let Hockey Guy watch the edited version and he can even quote this movie.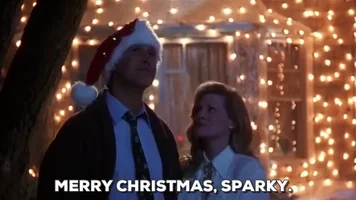 14) Favorite Holiday Beverage?
I love a peppermint mocha...skinny and light on the syrup.
15) Cookies and Mil
k for Santa?
Of course...and a carrot for Rudolph!