I am jumping into my first What's Up Wednesday and linking with Mel, Shaeffer and Shay. Let's do this!
What we are eating this week
Well, I am currently traveling for business so I was lucky to have dinner at my sweet co-workers house outside of Minneapolis Monday night. She has an adorable recently renovated house and had a small group of us over for dinner and fun conversation. She is the Best.
Tuesday night I had some takeout in my hotel room from
City Works
and the grilled salmon was a great choice. I did leave food for Running Daddy and the Sweet Boy but since the Sweet Boy has been sick for several days, I am not sure how much of it was eaten. It's OK, it's only things like tortellini that can be cooked at another time.
When I get home I think I will do something easy like pesto pasta tonight but then probably do something like pork Milanese on Thursday night. Friday is always pizza night in our house.
What I am Reminiscing About
With lacrosse evaluations last weekend for the Sweet Boy, I am reminiscing about what a great group of boys and a fun group of parents we had on our team last year---especially the Moms! Some of these ladies I had never met or didn't really know that well have become some of my biggest sources of Joy over the last year. Most of their boys are moving up to the next level, so I am hoping that we have a good team this year. Not sure we can match the magic of 2016, but that is OK.
What I am Loving
I am totally loving this Merona Bomber Jacket from Target and purchased it in navy this evening.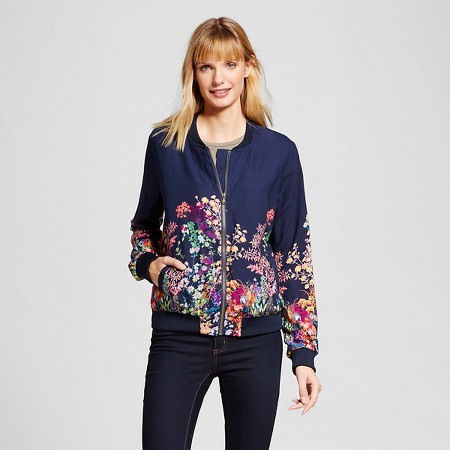 I am also loving the essential oils diffuser that Running Daddy got me for Valentine's day. It is something that I am interested in but would never have purchased myself. He is such a thoughtful gift giver. With the Sweet Boy being sick I was running some oils all weekend. In addition, the Sweet Boy had a big test last week, so I ran the Pay Attention blend while he studied and he aced it. I am open to any essential oils advice that anyone has out there.
I almost may be ready to say that I love Barre 3 but probably need a few more classes to be able to fully say that. It's the Best workout but more to come on Barre 3.
What We Have Been Up To
With the Sweet Boy being sick, I am talking five days of viral fever, we have not been up to much. I am currently on a work trip to Minneapolis.
What I am Excited About
I am excited about the first part of our home remodel being completed soon. We gutted our master bathroom down to the studs and opened up the wall between our kitchen and dining room and installed a breakfast bar. It's only the first part of our home remodel but I am excited about not sharing a bathroom any more with the Sweet Boy and Running Daddy and seeing it all come together. I am also excited to share with you all of the before and after photos in future blogs. I am also excited about my next Stitch Fix coming at the end of the week.
What I am Watching
Running Daddy and I are still watching a lot of The Bachelor and Beverly Hills Housewives. At the moment I am watching Chrisley Knows Best...I am not proud of this but I am alone in a hotel room and Beverly Hills Housewives is over.
What I am Listening to
Over the last year I have really gotten into pod casts during my commute. They are all entertainment based and mostly focus on Housewives and the Bachelor. Some of my favorites include Bitch Sesh, Watch What Crappens, Rose Pricks and Juicy Scoop. My commute is about 30-40 minutes each way so I totally need something to make me laugh and chill after a long day. Please don't judge....check them out if you love entertainment.
What I'm Doing this Weekend
Last regular season game for hockey is this weekend. I also need to start packing up our basement for the basement remodel. Running Daddy leaves Sunday to finish a big work course so we will try to spend as much time as a family. I also have a hair appointment and another Barre 3 class.
What I am Wearing
I am currently wearing black leggings, the Lilly Pulitzer Crystal Coast Skipper popover and Lilly Pulitzer Jelly Fish reading glasses.
What I am Looking Forward to Next Month
I am looking forward to the March hockey tournament for the Sweet Boy. Running Daddy finishing up his work course and coming home. Can't wait to find out who is on the Sweet Boy's lax team. I am also looking forward to warmer weather and hoping that the winter stays mild. I can't wait to try out our renovated bathroom and having Running Daddy hang out at our new breakfast bar with a beer while I make dinner.
So that's what's going on in the Good Better Best household.
0